The most desired hot tub features. ALL available from Beachcomber.
Flexible Customizable Jetting Inserts: Choose the number of jets you want with free jetting customization
Digital Temperature Control Systems: Fully programmable, digital up-to-the minute water flow saves you money
Safety Entry Steps & Equipment Access: A non-slip landing pad and twin side steps that is also your equipment cover
Full Length Lounge: Stretch out and enjoy your hot tub massage in this full length lounge
Body Molded Head Rests: Ergonomically designed and sculpted into the hot tub body, maximizing comfort
LED Ambient Lighting: Moodlighting gives added ambiance with low cost operation
Integrated Cup Holders: Convenient and easy to use for drink, food and candle holders
Powerguard Heatshield: Hot tub cover that seals the rim like a thermos bottle to trap in water's heat in all climate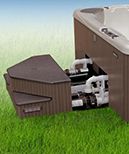 Hush Pump for low cost operation
Beachcomber's Hush Pump, working in conjunction with our Microfilter effortlessly heats and cleans your hot tub water keeping it fresh and clear. It's low electricity usage ensures energy efficiency.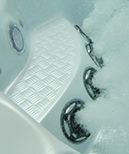 Reflex Foot Massage
The soles of our feet are covered with the thickest skin on our body. With nerve endings affecting the entire body, a good foot massage can relieve stress and improve your mood and overall health. With the turn of a dial, Beachcomber directs a full force of powerful water to your feet to immediately start draining the stress and tension out of your body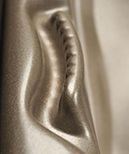 Safety Body Molded Hand Grips
Ergonomic Body Molded Hand Grips are conveniently incorporated into the hot tub mold allowing for safe entry and exit of your Beachcomber Hot Tub. This is an important safety feature for all bathers, especially for children or the elderly.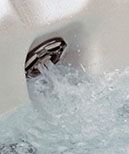 Recessed Neck Jet Massage
Positioned just at the water line, Beachcomber designers placed a recessed concave mold indentation for total relaxation of upper back and neck water massage. Repetitive motion and long hours in front of a computer bring pain and strain in the upper back and neck area. Neck jets, hot water and comfortable seating help relieve that pain, allowing you to recover and heal.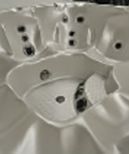 Comfort with Ergonomic Design
Beachcomber is well known for human ergonomics comfort design. The gently curved contoured seats fit the body perfectly. Many factors related to human comfort are carefully considered in the design of the depth, height, and width of the seat. Water ports are strategically placed in every seat for the best AllActive Seating massage pressure so you can relax and rejuvenate.