Radiant Add-Ons & Accessories
The following accessories are available. For more information call Rintoul's 1-800-716-8685.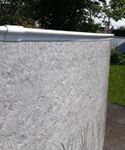 Premium Coping
Available as an exclusive finishing option for the Metric Pool. The new design boasts a wide 4 inch profile, elegant bullnose exterior finish and double tracks inside the pool that accommodates liner and our custom winter cover! Please note that the premium coping is not available for Metric Freeform pools.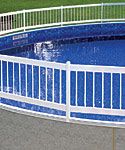 Pool Fence Kit
Easily add a fence to your Radiant Pool with a custom Radiant Fence and Gate Kit. The kit comes with the new custom fence mounting clip. This innovative component has an easy slide-and-bolt assembly that creates a clean, finished look. With a Radiant Fence and Gate Kit, nothing hangs over the top, and there are no large, unsightly brackets bolted to the side of your pool. Your kit comes complete with fence sections, custom fence mounting clips, gate, and all hardware.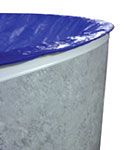 Custom Deluxe Winter Cover
Finally, a winter cover designed exclusively to fit into the standard white coping of Radiant Metric Round Pools! The custom fit provides perfect coverage for winterizing your Metric Pool. It's perfect for older Trojan Metric Pools, too!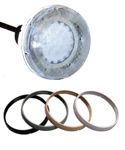 Radiant LED Light
Radiant Pools brings you a new and improved LED light option. These low voltage lights are designed to be energy efficient, with an incredibly long lamp life, and easily install into a standard return fitting. Offering a better fit and easier installation, these new lights, also do away with the unsightly extension outside the pool. Because they require no grounding or bonding and can be placed in shallow or deep areas, they provide the most flexibility when it comes to light placement. Trim rings included with the new LED Light come in four color options; black, gray, beige and white, so you can match the light to the liner and/or coping on the pool.